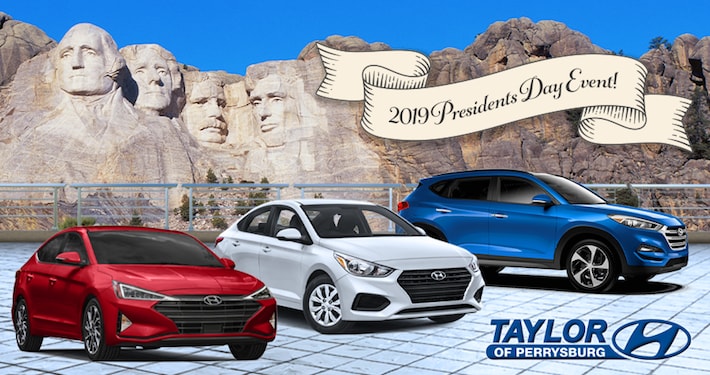 Have you been thinking about replacing your vehicle with a new or newer Hyundai? You're not the only one, because plenty of Toledo area Hyundai drivers are in need of a replacement for their current vehicles that can deliver on a variety of driver needs. Luckily, now is an excellent time to shop for a new or newer Hyundai model because our Presidents Day sales event is taking place at our Hyundai dealership. This means you can take advantage of all of the great sales options we have to offer!
Great vehicles shouldn't be available to a select few; that's why our Hyundai dealer provides plenty of specials to ensure more drivers can get behind the wheel of a Hyundai. Whether you're looking for a stylish sedan or a comfortable SUV, Hyundai has a large selection of models to appease any buyer. Since these models are popular, it's important to keep on eye out for our constantly changing deals as our stock varies. You never know when you might find the perfect deal for what you're looking for!
Presidents Day Sales Event At Toledo Area Hyundai Dealer
At our Hyundai dealer, we aim to offer our customers plenty of deals so that everyone can walk away with a vehicle that satisfies their needs. The manufacturer makes it easy to please our customers because they know how to craft a quality vehicle that delivers on dependability, durability, and performance--not to mention style. Some of their popular models at our Toledo area dealer include the 2019 Hyundai Elantra, the 2019 Hyundai Santa Fe, and the 2019 Hyundai Accent.
Each of these models offers interesting amenities; the 2019 Elantra offers a smarter and bolder appearance than ever with a standard rearview camera, highway EPA figure of 35 mpg, and sophisticated new grille. The 2019 Santa Fe model's redesigned look with a two-row design compliments its improved set of features like useful hands-free liftgate and standard Android Auto and Apple CarPlay. In the 2019 Accent, customers will love its impressively quiet cabin, roomy, best-in-class cabin space, and a svelte, sleek exterior body that makes for aerodynamic handling.
For more information on our Presidents Day sales event, contact us at Taylor Hyundai of Perrysburg!