Electric cars and hybrids are becoming hot commodities as Toledo area drivers look to save on gas and drive more environmentally-friendly vehicles. Hyundai's own offering, the IONIQ, has been making waves as a vehicle that defies stereotypes to deliver phenomenal performance and great efficiency. But what type of hybrid or electric is it? A hybrid? A plug-in hybrid? A pure electric car?
Is the 2019 Hyundai IONIQ a Plug-In Hybrid?
It's actually all three! The 2019 Hyundai IONIQ is offered in three different fuel-sipping configurations: IONIQ Hybrid, IONIQ Electric, and IONIQ Plug-in Hybrid. Each have their own unique benefits and traits.


2019 IONIQ Hybrid
The IONIQ Hybrid is a classic hybrid, with electric power helping your car's engine get more. The 2019 IONIQ Hybrid model gets an EPA-estimated 58 combined miles per gallon, which is more than any other hybrid vehicle on the market.


2019 IONIQ Electric
The 2019 IONIQ Hybrid Electric is a straightforward electric car, requiring not a sip of gasoline. That means no gas station trips or oil changes. It has a driving range of up to 124 miles on full charge, and can be charged at home or at charging stations around the country.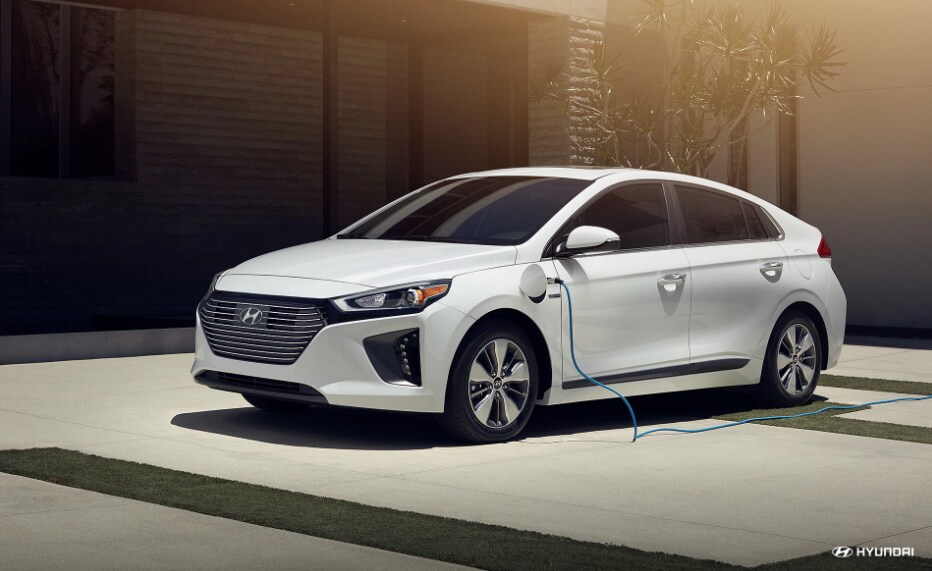 2019 IONIQ Plug-in Hybrid
The best of both worlds? The 2019 Hyundai IONIQ Plug-in Hybrid lets you run a quick errand without using any gas at all. Or it can let you take a massive road trip without having to stop. The Plug-in Hybrid model can take you up to 29 miles on electric power alone before it engages the gas engine--and once you're rolling with that, you'll get more than 50 miles per gallon. On a full charge with a full tank, you have a driving range of over 600 miles.
Shop Hyundai IONIQ Near Toledo
Ready to start saving at the pump--or avoiding it altogether? Come visit us at Taylor Hyundai of Perrysburg to learn all about the IONIQ lineup and to test drive one for yourself. Looking for another Hyundai hybrid? Check out the Sonata Hybrid, too, and stay tuned for the electric version of the popular Hyundai Kona crossover!